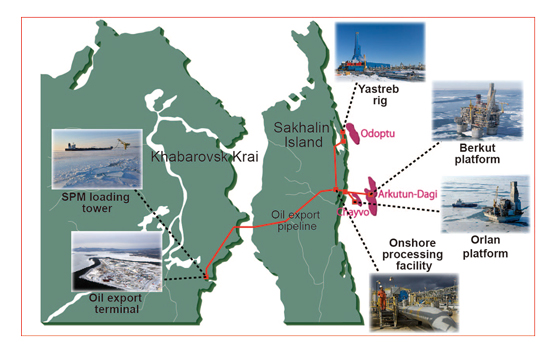 SODECO (Sakhalin Oil and Gas Development Co., Ltd.), ExxonMobil, two Russian partners (SMNG, RN-Astra) and ONGC-Videsh have executed a Production Sharing Agreement on June 30, 1995 to develop three large oil and gas fields (Chayvo, Odoptu, Arkutun-Dagi), north-east off Sakhalin Island.
Total recoverable reserves of these fields are estimated to be 2.3 billion barrels of oil (307 million tons) and 17 trillion cubic feet of natural gas(485 billion cubic meters). Oil and gas production from Chayvo field started in October 2005 for the domestic market. Oil is exported from De-Kastri terminal since October 2006. Production from Odoptu field began in September 2010, followed by Arktun-Dagi field in January 2015.
ITOCHU Group is the largest private share holder of SODECO, in which CIECO and ITOCHU Corporation have the shares of 1.83% and 14.46% (total 16.29%) respectively.