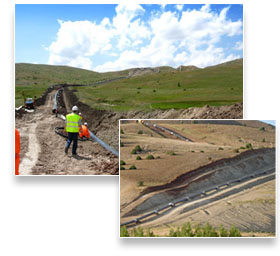 The BTC Pipeline will be the primary export route for oil and other liquid hydrocarbons produced in Azerbaijan and elsewhere in the Caspian region.
The Project is comprised of a 1,768 km pipeline. It is one of the longest oil pipeline in the world and designed to have an ultimate capacity of 1.2 million bpd. Also it crosses several mountain ranges and the highest elevation where the pipeline is passing through is approximately 2,830m. The Pipeline runs from the Sangachal terminal (near Baku, Azerbaijan) through Tbilisi, Georgia to the new Ceyhan marine terminal on the Mediterranean coast in southern Turkey.
In June 2002, CIECO established ITOCHU Oil Exploration (BTC) Inc. in order to acquire a 3.40 % interest in the BTC Pipeline Company.
BTC Pipeline became operational in June, 2006.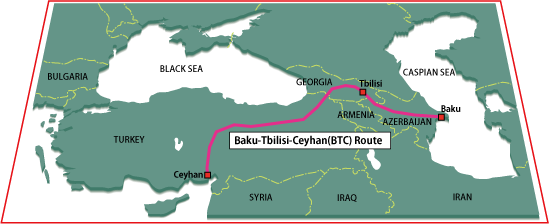 Out of a total BTC Pipeline Project cost of US$3.49 billion, US$2.6 billion external debt was funded via project finance.
The Project involves many parties including 11 sponsors, MDBs (IFC & EBRD), 6 ECAs of JBIC, US EXIM and European bilateral organizations, 15 commercial banks, and the insurance agencies of NEXI and OPIC.
The BTC Pipeline Project is funded based on a gigantic and complicated financial structure by multiple lenders (involving 78 parties) who provided 17,000 signatures at the Financial Closing.