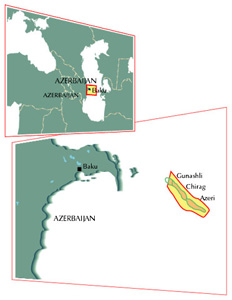 In 1996, CIECO established ITOCHU Oil Exploration (Azerbaijan) Inc., a wholly-owned subsidiary, to acquire a 3.9205% interest in a Production Sharing Agreement (PSA) for Azeri, Chirag and Deepwater Gunashli (ACG) fields. CIECO's participation in the ACG Project marked the first time that a Japanese or East Asian company had ever become a partner to a PSA for this region. The 30 years term PSA was often referred to as "Contract of Century". It was planned to operate exploration, development and production in ACG fields till 2024.
In August 2010, acquisition of an additional interest was performed by purchasing the stake held by Devon Energy who decided withdrawal from ACG and the ITOCHU's interests was increased from 3.9205% to 4.2986%.

ACG fields are operated by a multinational consortium of nine international oil companies, the "Azerbaijan International Operating Company (AIOC)" which is comprised of BP as operator, State Oil Company of the Azerbaijan Republic (SOCAR) and international oil companies from the U.S., Norway, Turkey, India and Japan.
In 1997, oil production was started from Chirag-1, the first platform in the ACG fields. As part of the ACG Full Field Development started from 2001, oil production was started from three platforms in Azeri from 2005 to 2006, followed by the oil production from Deepwater Gunashli in 2008. And additional platform which was constructed in western area of Chirag started oil production since 2014.
Currently 8 platforms are in operation. In August 2016 the cumulative oil production from ACG fields reached 3.0 billion barrel. The oil produced from offshore platforms is gathered and treated at Sangachal Terminal near Baku. Then it is mainly transported via Baku-Tbilisi-Ceyhan Pipeline.
On 14 September, 2017 the SOCAR and AIOC has agreed to extend the PSA for ACG for additional 25 years to the end of 2049. As part of the agreement, SOCAR increases its equity share from 11.6461% to 25.00%. The equity of ITOCHU becomes 3.648905%.